Reposted from the UALE mailing list: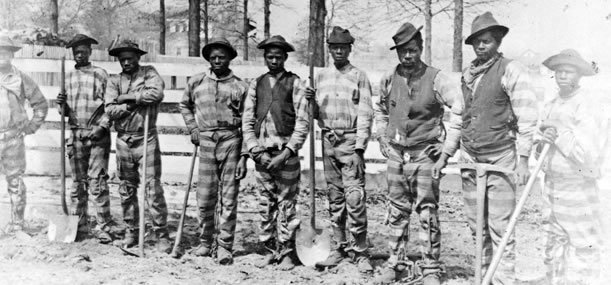 As you may be aware, PBS broadcast a special 90-minute film
Monday, Feb. 13, 9pm ET/PT, 8pm CT,
in most cities
, as
part of
Black History Month
.
[

KQED in San Francisco will broadcast at 10pm PT, and WTTW in Chicago at 9pm CT; below is a list of some larger media markets where the times are different.

]

.
This film vividly presents the

little-known story of thewidescale

reimposition of actual slavery in the South, after Reconstruction, which reached its height in the early 20

th

Century and continued

--

with its condoning by the US Dept. of Justice

--

until Pearl Harbor.

|

The consequences for African-American families and communities in the South were horrific

.

This severe abuse

represented a form of judicial, political and economic terrorism which still reverberates in American politics.

The film concentrates on a few stories of the hundreds of thousands of African-American men dragged into the "convict-leasing system" – and assigned to coal mines

, brick

factories, farming

and other industrial-sized enterprises, with murderous consequences for them and incredible profits for the corporations which used them. In coal mining, the slave labor system was explicitly used to stop one of the most important strikes in Southern history – the UMWA's effort to stop convict leasing at the US Steel mines in Birmingham. That strike was smashed by the Alabama state

militia in an incident every bit as brutal as the well-known incident in Ludlow, CO.

To many peoples' amazement, America

ns

white, black and brown do not know about this history. It has been suppressed

.

Why? To support

the myths of the beneficence of Southern politics and the failure by African-Americans themselves

to proceed more quickly to economic progress.

Those myths were exploded when the book by the same title was published in 2008 – and won the Pulitizer Prize.

http://www.slaverybyanothername.com/

.

I strongly encourage you to inform your colleagues, families and friends to watch this important film, and later to read the book.

Short of reading the book, attached is the extensive article by the same author on the front page of the Wall Street Journal on July 16, 2001, which first pried open the lid on this issue in a broad public forum, and led to the book. The article is called: "From Alabama's Past, Capitalism Teamed With Racism to Create Cruel Partnership."

The book itself was recently banned by the Alabama prison system – while the Georgia Corrections Commissioner has made it required reading!

Here is the recent review of the film by the Scripps newspaper chain :

http://www.scrippsnews.com/node/67267

Let me know if you have any questions.